NAM TU LIEM GENESIS SCHOOL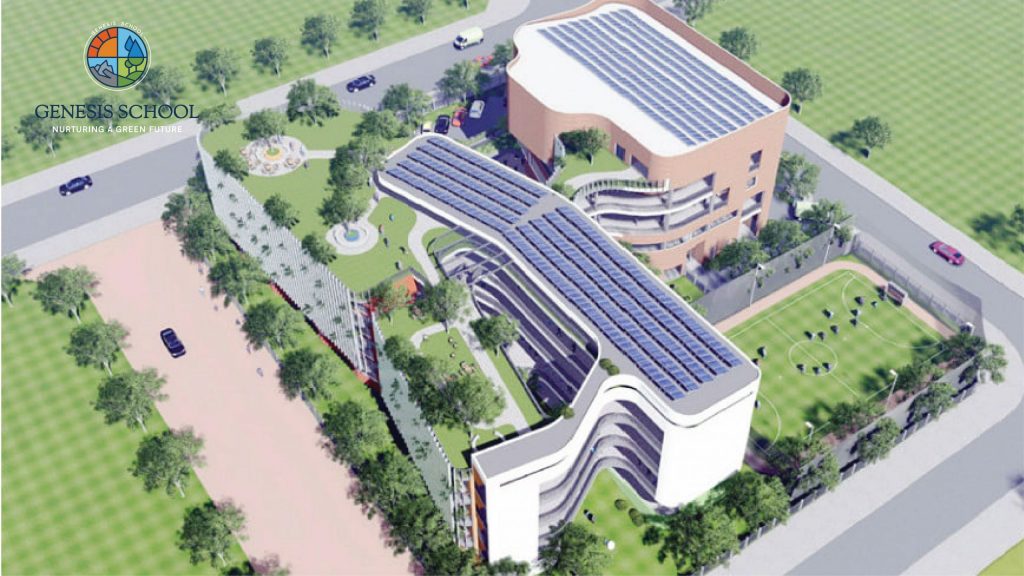 Genesis Primary and Secondary School (Hanoi) was built according to the Lotus standards of Vietnam Green Building Council, located in area H2-2, Mễ Trì urban area, Nam Từ Liêm district, Hà Nội with a total construction area of 12,600m2.

The design of the school also ranked first in the "Low Carbon Buildings and Sustainable Cities" award list in Vietnam in 2021, announced by the The French Agency for Ecological Transition.

Genesis Primary and Secondary School in Hanoi applies smart architectural solutions to reduce CO2 emissions (only 1,374 tons of CO2/year) and save electricity and water (reduce 60% electricity/year and 40% water/year). A "Low Carbon" green school with a fresh climate to ensure the health of the students attending school.
THE SCHOOL INSPIRED BY THE NATURE
Based on the "Green Genesis" philosophy, Genesis Primary and Secondary School (Hanoi) was designed by the inspiration coming from natural elements like a drop of water, a leaf, a rock and the sun – the elements that start and maintain life on earth. 
The classrooms and particular-function rooms are spacious, specialized and prioritize the maximum use of natural light.

The library is built to be an open and friendly learning and research space where students can exchange and share knowledge through thousands of books.

The indoor four-season swimming pool provides enjoyable swimming experiences at any time of the year.
EXPLORING AND EXPERIENCING AREA
Genesis School owns many unique spaces and facilities such as self-study rooms, hydroponic garden, outdoor soccer field, "solar park" on the roof of the school… for Genees to freely explore, create and experience a diverse space of physical activities and learning.
EDUCATION PROGRAMS AT NAM TỪ LIÊM GENESIS
Nam Từ Liêm Genesis offers Primary and Lower Secondary School education programs in two streams: Integrated stream and Bilingual stream.