Secondary Education Program
Genesis builds and develops an unique curriculum that combines the framework curriculum of the Vietnamese Ministry of Education and Training and the Cambridge International Curriculum, Green Projects & tailor-made subjects. The curricula being taught at Genesis are designed based on 3 main principles: Academic proficiency, General competency & Cross-curricular learning, which allow them to be focused on developing learners' competencies, be learner-centered, allowing learners to develop self-studying, critical thinking, and problem solving skills.
2 Curricula: Bilingual Stream and Integrated Stream
    Duration for learning in English in Bilingual Stream: minimum 50% total learning time
Academic English Curriculum
Strong academic foundation
Intensive career orientation
Green Education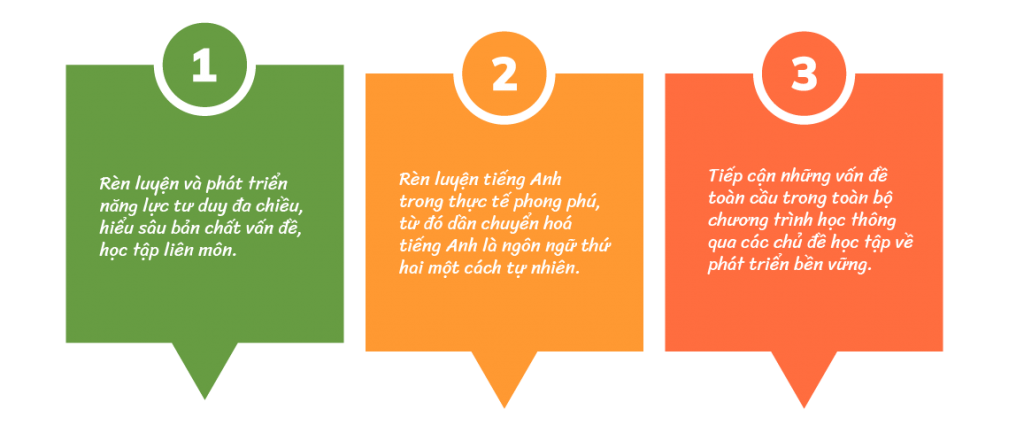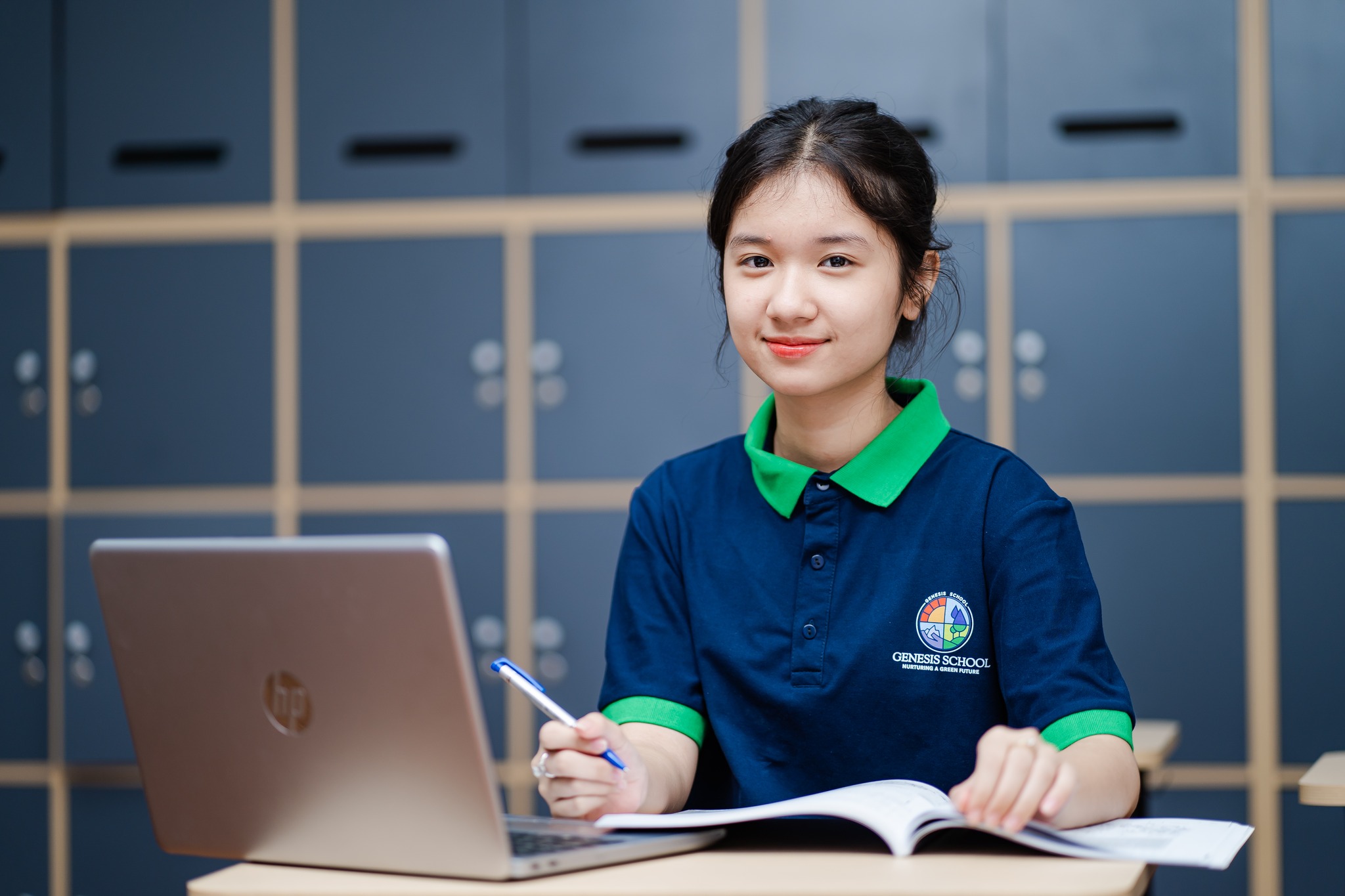 Genesis School applies modern learning methods that focus on experience and creativity, contributing to the formation of students' multidimensional thinking, problem solving skill and autonomy in learning:
Experiential Learning
With this approach, each teacher at Genesis plays the role of inspiring, motivating, and guiding learners. Genesis students have the ability to discover their passions, find learning goals and apply knowledge in life.
Integrated learning
Individualized learning
Nature-inspired Learning
ABOUT GENESIS SECONDARY SCHOOL CURRICULUM
Framework curriculum of the Ministry of Education and Training
Based on the 2018 Secondary School curriculum of the Ministry of Education and Training, Genesis developed specific content for Maths, Literature, and Science to focus on the goal of differentiation and fostering talents.
International Curriculum (English language)
Inhouse developed curricula
Green Projects
In the Bilingual Stream, students use English for a minimum of 50% of learning time, depending on the grade level of Upper and Lower Secondary School.
Students study under the Cambridge Lower Secondary curriculum in grade 6, 7, 8 with subjects like ESL Proficiency, Maths, Science and Global Perspectives.
ESL Curriculum
Students' English listening, speaking, reading and writing skills are developed in conjunction with Cambridge Assessment English and based on the Common European Framework of Reference for Languages (CEFR) by the Council of Europe used globally to measure students' progress in English.
Math Curriculum
Science Curriculum
Global Perspectives - Cambridge Lower Secondary
In grades 9 and 10, students study the IGCSE program. IGCSE (International General Certificate of Secondary Education) is a Cambridge International Secondary School program for students aged 14-16 (equivalent to grades 9-10 in Vietnam).
Students have 2 compulsory subjects (English and Mathematics) and 3 elective subjects which are divided into 2 groups: Group 1 with Physics, Chemistry and Biology; Group 2 with Global Perspectives, Business Studies and Travel & Tourism.
In grade 11 and grade 12, students will choose 3-4 AS/A Level subjects. The A Level Curriculum creates a solid foundation for students in applying for prestigious universities in the world and in Vietnam, as well as choosing a career for the future.
In the A Level Curriculum, students can choose from a group of subjects that are oriented to their future profession. Students' early access to these subjects helps them determine if the chosen field of study is right for them and whether they need adjustment or change.
The A Level program in Genesis School offers a wide range of subject groups for students to choose from. Each major of each university will have different requirements. The creation of multiple subject groups will help students choose a group of A Level subjects based on the requirements of the industry that students study in the future.
List of tentative A Level subjects in the first school year:
English Proficiency
English Proficiency: By the end of the Lower Secondary level, Genesis students can achieve competency equivalent to level B2 or higher in the European Framework of Reference (CEFR).
Students learn English through projects, which assists the process of fully developing vocabulary, grammar, as well as listening, reading, writing and speaking skills to have a strong base of communication ability.   

Green Projects
ESL Maths, ESL Science Curricula
Intensive Career Orientation program
Genesis focuses on intensive career orientation for students with different priority in each stage
Lower Secondary school: Discovery, research, and plan for the future
Upper Secondary school: Practice, experience career through MicroDegree program; Internship; and Academic consultancy
At the Lower Secondary level, Genesis students learn, interact and discover facts about career groups through learning projects, experiential activities, and events with experts.
Genesis students in Upper Secondary school are to be intensively career-oriented through programs:
Internship
Students take first steps in experiencing the real working environment at businesses and organizations with professional work in the oriented fields
MicroDegree program
Academic consultancy
CURRICULUM DEVELOPMENT TEAM
Genesis school is proud to be a school built and developed by innovative and enthusiastic educators; teachers who aspire to bring quality and integrated education programs to students of all ages. Genesis school has received knowledge, methods and experience from educational experts from many cultures.